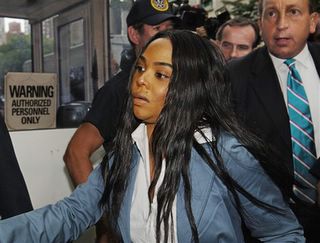 Posted by
Picasa
Grammy-winning rapper Lil' Kim was sentenced Wednesday to a year and a day in prison and fined $50,000 for lying to a federal grand jury to protect friends involved in a 2001 shootout outside a Manhattan radio station. It was far less than the 20-year maximum she could have gotten and the nearly three-year sentence prosecutors had sought. U.S. District Judge Gerard Lynch said he had considered the public perception of sending a young black entertainer to prison far longer than Martha Stewart, who spent five months in prison and remains under house arrest.
Ok, so she got 366 days in jail when Martha got 5 months? I'm not feeling this judge at ALL.
But I must say, Kimmie, sweetie, PLEASE STOP BUTCHERING YOURSELF!
YOU LOOK LIKE A HOT MESS!
and WTF is up with your lips, damn collagen looks like it's shifting gurl